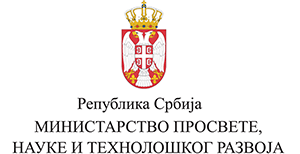 The Serbian Ministry of Education, Science and Technological Development, certificate No. 022-05-00050 /2010-03, as of 14.7.2011, has granted Savremena International School a permission to implement the curriculum for general education. On our behalf, we keep refreshing the curriculum by introducing new teaching resources, designing new skill courses for students and providing opportunities for teachers to develop professionally.
[button href="https://www.savremena-gimnazija.edu.rs/wp-content/uploads/2014/11/Rešenje-Ministarstva-prosvete-Savremena-gimnazija.pdf" position="left"]SCANNED DOCUMENT[/button]
[su_list icon="https://www.savremena-gimnazija.edu.rs/wp-content/uploads/2014/11/tačkica2.jpg" icon_color="#b71d27″]
Savremena International School can be found on the website of the Ministry of Education, Science and Technological Development under the following reference number – 1882, along with other accredited primary and secondary schools and faculties in Serbia.
In addition, you can find Savremena International School on the map of the educational institutions in Serbia, also accessible on the Ministry's website, by typing the school's name in Serbian (Savremena Gimnazija) in the search bar below the map or by searching through the secondary schools category.
Traditional and modern – the best of both worlds
The National Programme is the basic mode of education offered at Savremena International School. With the aim of providing truly modern education, this programme was designed to follow the Serbian national curriculum by way of a forward-thinking teaching methodology.
We strive to avoid old-fashioned and often criticised elements of the educational system, and implement and improve those elements which are traditionally good and valued such as cherishing one's mother tongue.
Continuously improving teaching methods
The teaching approach implemented in the National programme is also truly unique and creative. We aim to continuously improve our teaching materials, and to use new technologies as much as possible in order to maintain an ever-interesting and innovative educational philosophy. Our teaching staff strives to refine their classroom practice and always keep their teaching methods fresh, modern and student-centered.
Among other things, a modern teaching approach is defined by small working groups of around 20 students, mentoring, tutorials, an eye for recognising talents and potential and a knack for developing them by meeting the needs of each student. This is exactly why Savremena International School's National programme is the best choice for students who wish and demand more from their education.
[/su_list]