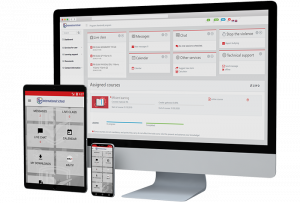 One of the biggest steps forward in changing the classic educational process is distance learning, that is, learning via the Internet. Practice proves that the pedagogical and didactic importance of this way of learning is extremely great.
That is why, considering the nature of the modern approach of our school, we feel a special responsibility and need to raise awareness of the necessity of changes in the educational process and the use of all the advantages that this type of learning brings with it, as well as to share our knowledge and many years of experience in the field of distance learning.
The future is already here for the students of International School
In addition to attending classes in traditional classrooms, International School students can also have classes online through a unique Distance Learning platform.
The platform is available 24 hours a day, 7 days a week. It is the result of many years of work and expertise of our team of experts, who are eminent professionals in the field of education – software engineers, developers, administrators, authors of online courses, pedagogues and psychologists. A team of 15 engineers and all teachers of our school take care of the platform's flawless functioning and development, as well as user support. The platform also includes video recordings, audio recordings, and interactive applications with the recorded screen when using the appropriate programs, and it also offers the option to contact the teachers in real-time via the Internet.
To see for yourself how the online learning support platform functions and how easy it is to use it, please see the eLearning demo: