The Cambridge Advanced or A Level programme is the advanced, higher level of the Cambridge International programme, followed by Year 12 and Year 13 students at International School. Hence, it is intended for students aged 16-19.
If they successfully fulfil all the requirements of the Advanced programme, students receive the globally recognised and highly regarded AICE diploma, which is a certificate of international education that meets global standards.
Cambridge Advanced or A Level for Year 12 and Year 13 students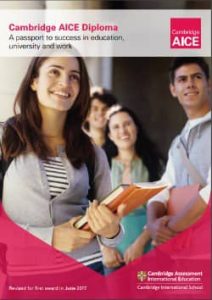 Holding the AICE (Advanced International Certificate of Education) diploma is the main reason why thousands of students worldwide succeed in entering leading universities around the world.
This programme enables students to fully understand the gist of any subject and develops independent thinking in them.
International School follows a programme which is recognised and valued by the most prestigious universities around the globe and which develops students' knowledge, understanding, and skills in the following areas:
a thorough understanding of any subject
independent thinking
application of the knowledge and understanding of new, as well as familiar, situations
logical thinking and presenting coherent arguments
making estimates and decisions
working and communicating in English.
The Cambridge AICE diploma – a certificate of knowledge and ability
Upon completing the Advanced/A Level programme, i.e. finishing Year 13, students obtain the Advanced International Certificate of Education (AICE) diploma. Apart from testifying to students' comprehensive knowledge, this diploma also attests to the fact that they've learned to think critically, analyse the information they come across, and present their knowledge in the best way possible. In short, the Cambridge AICE diploma is an invaluable passport not only to further development at the most reputable universities around the world, but also to jobs in leading companies worldwide.
Visit the Cambridge Assessment International Education website for more information: