International School implements two Cambridge curricula – Secondary 2 (IGCSE subjects) and Advanced level (A-level subjects).
Secondary 2
In Years 10 and 11, the students have to attend seven mandatory IGCSE subjects:
English as First Language or English as a Second Language
One of the foreign languages: French, German or Spanish
Mathematics or Advanced Mathematics
One of the social humanities: Geography or History
One of the natural sciences: Biology, Chemistry or Physics
One of the specialised courses: Computer Science or Business Studies
Global Perspectives
By passing the exams in these subjects, students can obtain an internationally recognised diploma – International Certificate of Education (ICE). Students can select more than 7 subjects in order to prepare themselves better for Years 12 and 13 and their further education.
Cambridge IGCSE is adapted to the students' different levels of knowledge, educational needs and abilities, especially for those whose mother tongue is not English.
Apart from the mandatory subjects, the students also attend Health and PE lessons, which are organised in the school's gym or outside the school for activities like swimming, skating, hiking, mountaineering, etc. Students will also learn how to create their meal plans and track their health. By doing so, the students remain both physically and mentally active, which is part of our school ethos.
Advanced level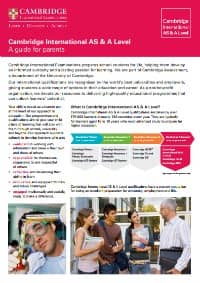 Unlike the Secondary 2 level, where the students develop comprehensive and general education, in Years 12 and 13 the students choose the A-level subjects which are relevant to their interests and supportive to their further education. With this mind, we have carefully created A-level bundles in order to offer concrete pre-uni preparation in the areas of our students' interests.
Once the Year 11 student has consulted our school career counsellor and passed the career-orientation test, they may choose one of the bundles which we offer, depending on their interests, talents and abilities.
Each of these bundles is carefully designed to meet the requirements of the Cambridge Assessment International Education for the AICE Diploma as well as the entry requirements for the international universities.