Internationally recognised qualifications and good pre-uni preparation, which meets the highest international standards, are important for the professional future of our students. This is the very reason why International School, with undivided support of its founder, LINK group, has decided to offer Cambridge international qualifications to the students oriented internationally. As a Cambridge International School, we are part of large family of more than 10,000 schools in 16 countries, which opens up a lot of new opportunities. Leading seamlessly from Year 10 to Year 13 (14 to 19 year olds), our students complete two Cambridge levels and obtain two internationally recognised certificates, which paves them the way to the world's most prestigious universities.
Cambridge International Qualifications offer a two-tier pre-uni preparation. In Years 10 and 11, the students follow Cambridge Secondary 2 programme (IGCSE level) and in Years 12 and 13 Cambridge Advanced programme (A-level). Having completed Year 11, the students may sit exams for Cambridge ICE (International Certificate of Education), followed two years later with Year 13 Cambridge AICE (Advanced International Certificate of Education).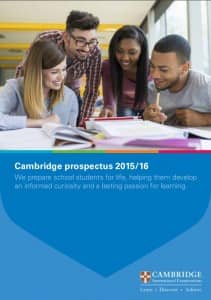 These curricula and qualifications are highly regarded and carefully prepared to set a bar high. Our students are offered a large number of subjects, development opportunities, wealth of resources and prestigious international certificates. Further to this, our teachers are well prepared through the Cambridge professional development courses to meet the highest teaching standards.
The Cambridge lessons are English-mediated, without any mother tongue intrusion, which enhances students' communication skills with the teachers and the peers. Our goal is to encourage students to acquire English as a second language at a very high degree and use it under any circumstances at the near-native level of fluency.
Visit Cambridge Assessment International Education website to download a prospectus.
Source: Cambridge Schools YT channel
Teachers with modern approach to instruction
Our teachers have completed Cambridge professional development courses in order to comply with the Cambridge approach to instruction and they incessantly grow professionally through various workshops and seminars, which refresh their teaching and make it more interesting. Alongside that, they have full support, designed carefully around the curriculum, qualifications, classroom resources and the needs of our learning community. All publications and curricula are approved directly by Cambridge International Examinations.
Such a well-arranged package enables our students to acquire, consolidate and evaluate their knowledge before the official examinations at the end of the programme.