International School continues to push boundaries when it comes to modern education. This school has officially become a Brainfinity Problem Solving School, meaning that this unique institution implements an innovative problem solving approach to teaching that develops students' cognitive capacities, critical and creative thinking, and teamwork skills.
International School received this prestigious accolade by meeting the strict requirements for implementing problem solving instruction. The Brainfinity jury concluded that the school has a certified problem solving teaching staff, its students successfully compete in the Brainfinity Problem Solving competition, and the school is also a member of the Institute for Contemporary Education.

International School has thus obtained great recognition for their contribution to education, implementation of modern teaching trends, and the promotion of science and problem solving. As a Brainfinity School, International School has earned a valuable Brainfinity Problem Solving badge, a great confirmation of their belonging to the renowned global community of schools which promote and develop problem solving, a key skill of the future according to Global Economic Forum reports.
International School – a pioneer in the implementation of problem solving approach in teaching
According to research, merely 10% of teachers are trained to convey problem solving skills to students. This is why the fact that International School's teachers are trained and certified to implement this type of instruction is particularly significant.
International School is known for using innovative approaches, such as multiple intelligences, interdisciplinary lessons and project-based learning. Now, they have obtained the official Brainfinity Problem Solving School title, thus providing students with world-class problem solving instruction.
This primarily means that International School's students develop problem solving skills by working on real examples and challenging tasks while using cutting-edge technology. They solve interesting problems in environmentalism, financial literacy, maths, logic, languages, poetry, the arts and other related areas, thus gaining key skills for their academic, professional and social development.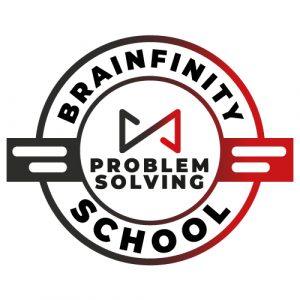 What is Brainfinity Problem Solving?
Brainfinity is a renowned organization dedicated to the transformation and enhancement of education by introducing problem solving in teaching. It is a (r)evolution in teaching that will enable students to develop key skills for a successful future. This organization welcomes many young people, teachers and professors from all over Europe and beyond, and works with an extensive network of schools with the aim of promoting the principles of problem solving.
In their training centres, as part of the activities aimed at implementing problem solving in key areas such as education and business, Brainfinity organizes professional training for teachers, the Creative Problem Solving online course, company case studies where students solve real company problems, promotes problem solving through numerous events and much more.
Brainfinity is also the organizer of a unique problem solving competition in which senior primary students and secondary students compete in solving challenging problems. So far, over 2,000 students from the region have shown enviable problem solving skills. The contest has generated incredible interest among students, as it gives them the unique opportunity to solve challenging problems in teams, such as detective tasks, using the Internet and modern technology. The students' engagement is proof of how efficient problem solving is: when instead of tedious assignments they get the opportunity to solve exciting brain teasers in teams, students are motivated to learn and participate in competitions. Several teams have already qualified for this year's finals; two teams from Year 10 – "LITT" and "Brain Killers" – solved the qualification challenge in record time.
Thanks to the problem solving approach fostered by International School, the students not only love the competition, but they also achieve excellent results given that they are used to this modus operandi.
All primary school students attending Years 5 through 8 and high school students who are interested in Brainfinity can try their hand at solving previous problems, and apply for the competition.
Why is problem solving an important addition in teaching?
Problem solving is the skill of finding creative and ingenious solutions to problems in different areas. As such, it's necessary for 21st-century jobs characterised by dynamics, volatility and the need for teamwork and quick thinking.
Each of us applies basic problem solving skills in life without being aware of it. For example, when we're trying to remember where we put the remote, or how to complete work-related assignments, or prepare lunch for our kids. Complex problem solving is used for solving business, economic, climate and other key problems in society.
In teaching, this concept relies on our innate ability to solve problems. It enables children to learn through real-life situations without cramming or mechanical repetition.
In teaching, problem solving is a flexible and dynamic process that allows students to improvise, exchange ideas, and do research and experiments. Each problem solving process contains six basic steps that enable students to find the solution:
Understanding the problem
Researching and collecting information
Creating strategies and brainstorming
Selecting the best solution
Implementing the solution
Testing and presenting the solution
This way, students develop critical thinking skills, creativity, communication skills and teamwork, thus becoming productive problem solvers ready to independently tackle all academic and professional challenges in the future.
This is highly important given that, according to research, by 2030 the amount of time per week we spend solving problems will increase by 90%, whereas the overall demand for problem solving skills will increase by 36%. It is, therefore, no wonder that the World Economic Forum has named problem solving as the most important skill of the future and an education priority necessary for preparing our students for the 21st century.
Schools which use problem solving in teaching have become highly sought-after in the world, and thanks to International School, our students can master this useful skill early on.
A turning point in education – there is a successful "problem solver" in every student
Problem solving is a skill experts believe will become a real cultural turning point and contribute to the faster development of society. It allows students to express themselves freely and creatively, foster a zeal for research, and solve problems independently. In other words, they gain everything that's necessary for life and work in the 21st century.
It's highly important to gain this skill early on; thanks to International School, this is now possible in Serbia, as well.