Here is what it's like to be a part of International School's team
International School has a young but highly educated team of teachers who possess relevant experience in education and speak multiple foreign languages. The teachers' positive impressions prove that working in these two schools is truly different, and with their assistance, the students can easily respond to any challenge and reach their full potential.
Owing to the high standards in work and behaviour, and the synergy of experience, innovation and knowledge which we foster at all times, International School's team includes teachers who grow on a daily basis. Unique lessons and the willingness to transfer knowledge to the students using contemporary teaching methods and technological innovation, makes them modern teachers for the 21st century.
But what's the thing that International School's teachers particularly highlight in their work at International School?
What makes International School truly different is the multidisciplinary approach to teaching
As a biology teacher at International School, I have the opportunity to go beyond the basics to impart specific skills and knowledge to the students. The technology we use during lessons allows us to apply a multidisciplinary approach to complex topics, which makes the students engaged and willing to gain more knowledge.

Nadežda Golubović, Biology teacher
Great opportunity to teach open-minded students
As a Global Perspectives teacher, I have an opportunity to teach open-minded students who are able to use critical thinking skills in the debates about globally important issues. It is a unique experience for the teacher to be able to share the ideas and perspectives with the students in a very intellectual and profound way. Being able to follow up the current World and local problems, I travel with my students without boundaries.

Tatjana Koluvija, Global Perspectives teacher
A wonderful and unique experience
Working at the International School has been a wonderful ride and quite a unique experience. The environment of the school is like extremely fertile soil for creativity and ideas to grow. What I am able to achieve here through working with both my students and my colleagues is beyond what I could have ever imagined as possible in a school setting. My ideas are fully supported by the school management and made possible by all the technology we have at our disposal.

Andrej Bunjac, Mathematics teacher
Building a solid foundation for successful future
In the International school we teach children how to embrace the change and uncover entrepreneurial skills. In this process we teach them different book knowledge and combine them with experience from the businesses and economies of the world of today so they will be able to build a solid foundation for their successful future academic and business careers. In a friendly environment they feel positive reinforcement to grow and build their skills needed to become responsible young leaders of future generations.

Marija Milić, Economics teacher
I am proud to be using modern equipment and principles to train my students
At the International School, we are using advanced digital resources to prepare students for their future studies. Collaboration among the teachers is thriving on their creativity. We hold frequent interdisciplinary lessons that enrich the students' understanding of the world. As a Physics teacher, I am proud to be using modern equipment and principles to train my students to be exceptional problem solvers.

Ana Vlašić, Physics teacher
Great opportunity to teach open-minded students
International School takes pride in having future leaders, innovators and outside-the-box thinkers for its students. It has been a real pleasure and honour working with students with such incredible academic potential and seeing them thrive both personally and academically. Being an English language teacher in a school which invests so much in individual approach to teaching and learning, I find joy teaching my students not only the language skills, but also helping them form informed opinions and express themselves eloquently, as these skills will be an important ingredient in preparing for whichever career path they choose to follow.

Ljubica Krstić, English teacher
School takes pride in having future leaders, innovators and outside-the-box thinkers for its students
The teachers at International School are experienced lecturers with a unique approach to each student. Thanks to the top-quality education obtained all around the world, and relevant experience in education, International School's teachers are able to inspire the students and prepare them for the educational challenges that lie ahead.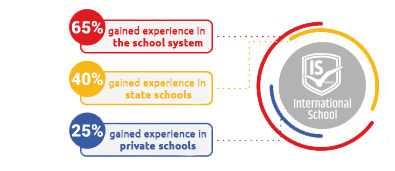 International School's learning environment, which encompasses the latest technological devices, educational apps, and interactive and multidisciplinary lessons, allows the teachers to dedicate themselves to each student individually so as to provide them with the best possible education.
Constant development and following global trends in their respective fields is an additional quality of Internatiolnal School's teachers. This allows the students to acquire applicable skills through a modern approach to teaching. Thanks to the teachers' dedication, the students can master the materials much more easily, which brings multiple benefits later on in their schooling.
A place for growth and development
International School cherishes not only its students, but its teachers, as well, which is why we constantly strive to provide them with the perfect environment for growth and development.
The fact that, after a hard day's work, the teachers leave the school fulfilled and happy with their workplace, provides the students with an incentive for even greater achievements.
The positive words of International School's teachers are proof that these are schools in which the teachers truly are the students' best friends.