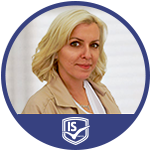 Business teacher, Tatjana Vilček, graduated from the Faculty of Tourism and Hospitality Management, in the field of hospitality. The highest grades she obtained during her master studies confirmed her expertise in the field. By completing her PhD thesis, she will open the doors to new achievements and reach the highest level of professionalism.
Her vast experience has enabled her to enhance her expertise through a hands-on approach in the field. In addition to the lectures she has given at the Faculty, her papers on technological innovation in tourism and business were submitted for the International Conference for New Trends in Tivat both in 2014 and 2015.
With her top education and professional achievements in leading positions, Tatjana creates a tradition of success in the field of education and guides her students towards new possibilities in business and beyond.
Email: business@iss.edu.rs