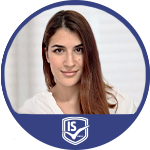 Biology teacher, Nadežda Golubović, graduated from the Faculty of Biology at the University of Belgrade, where she also attained her master's degree in plant physiology. She has been an active member of the Youth Office, where she has had various responsibilities. She has worked in project management, marketing, peer education and mediation, and mentorship.
As a biology teacher at International School, Nadežda strives to make the world of this natural and experimental science relatable to her students by using modern teaching methods, as well as creative experiments which serve to demonstrate the importance and wide scope of application that biology has in the real world.
Nadežda loves to spend her spare time outdoors with her loved ones, explore and watch documentary films.
Email: nadezda.golubovic@iss.edu.rs