When it comes to cutting-edge international education in the region, the International School continues to push boundaries and raise standards.
This is great news for current and future students and their parents:

This means that, in addition to the valuable Cambridge diplomas, our students will be able to obtain the internationally recognised IB diploma that facilitates access to the best universities and colleges around the world.
From now on, your child will be attending not only the most modern Cambridge school in the region, but also a prestigious IB World School that offers the International Baccalaureate Diploma Programme.
A comprehensive international curriculum – a gateway to the most prestigious universities around the world
The IB Diploma program is a carefully designed and academically challenging programme for students aged 16–19 (Y12 and Y13), which comprises compulsory Core subjects and five elective subjects which the students choose from five subject groups in accordance with their affinities and plans.
Owing to the programme's unique international approach, the students acquire holistic and applicable knowledge that helps them fully develop their potential. Perfect balance between natural and social sciences, the option to study multiple languages, and the fact that students can choose between elective courses generate harmonised skills and knowledge which the students can apply in different parts of the world.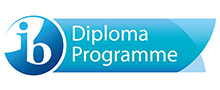 By completing this renowned programme, students gain a wealth of knowledge, advance physically, intellectually, emotionally and ethically, learn at least two languages, excel in traditional subjects, and develop critical thinking skills thanks to the unique DP Theory of Knowledge.
After completing this programme, students acquire the international Diploma of the International Baccalaureate (IB Diploma), which is a great asset when applying to universities around the world. In addition, this diploma is highly appreciated by the largest employers in the world.
Great recognition for the International School
Opportunity to implement the prestigious international IB programme is given to the selected international schools in the world that meet the highest standards when it comes to teaching staff expertise, educational technology, and approach to learning.
Therefore, the fact that the International School has officially become an IB World School is international recognition of quality and one of the best accolades when it comes to education.
The International School and its students have thus become part of the global education elite.