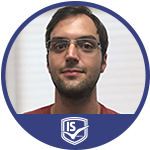 Computer Science teacher, Milić Vukojičić, studied computer science and worked steadily on his own training and education, through a variety of courses( Microsoft-Data Science), Oracle Academy (Database Foundations, Database Programming with PL/SQL) and teaching (MIT-Computer Science). Milić has expirience in programming, data science and artificial intelligence, and projects on which he worked as a freelancer. All of this has enriched his experience, and honed his skills in teaching, communication, learning, teamwork, creativity and business conduct.
At International School, he encourages critical thinking and problem solving skills in computing, while motivating students and showing them a different kind of thinking and learning.
Alongside being a passionate basketball player, Milić plays blues, jazz, rock and classics on his guitar and loves reading philosophical books especially Ludwig Wittgenstein.
Email: milic.vukojicic@iss.edu.rs