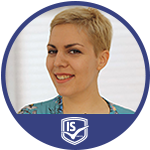 English and Sociology Teacher, Jovana Živković, graduated from the English Language and Literature Department at the Faculty of Philosophy, University of Niš and received her Master's diploma in English literature at the Faculty of Philosophy, University of Novi Sad. She is currently a student of Doctoral studies at the Faculty of Philology, University of Belgrade. Jovana worked in several language schools in Niš, teaching students of different ages and backgrounds. Furthermore, as a volunteer of the American Corner in Niš, she actively participated in different workshops related to her professional development, as well as those concerning global topics, such as environmental protection, human rights, mediation etc.

As a part of International School, Jovana brings a student-oriented and communicative approach to the subjects she teaches, all the while striving to develop her students' critical thinking through discussion on various contemporary burning questions. Being aware of the importance of intercultural communication in both society and the classroom, she uses various multimedia in class in order to improve her students' language competence, and promote their understanding and appreciation of the abundance of differences in our contemporary world.

In her free time, Jovana enjoys yoga and hiking, as well as developing new recipes to share with her family and friends.
Email: jovana.zivkovic@iss.edu.rs